The association is designing the former pine forest based on the example of Dr. August Bier and the Sauener Forest in order to achieve the greatest possible biodiversity on this relatively small area.
Measures (partially already implemented):
Creation of hedges to protect the areas behind them from drying out, as breeding grounds for insects, hedgehogs and birds, and as a source of nutrients for planting around the edges.
Plant the following herbaceous plants:
Columbine, mallow, foxglove, delphinium, poppy seed, konrade, cornflower, marigold, magarite, chicory, various types of thistle, nettle, adonis, girl's eye, night violets, Jacob's ladder, meadow sage, parsley, veal's goiter, various types of clover, St. John's wort, Dandelion, violets, woodruff, periwinkle, valerian, comfrey, yarrow, mugwort, mullein, evening primrose, melde, wild wine, hops, sunflowers and much more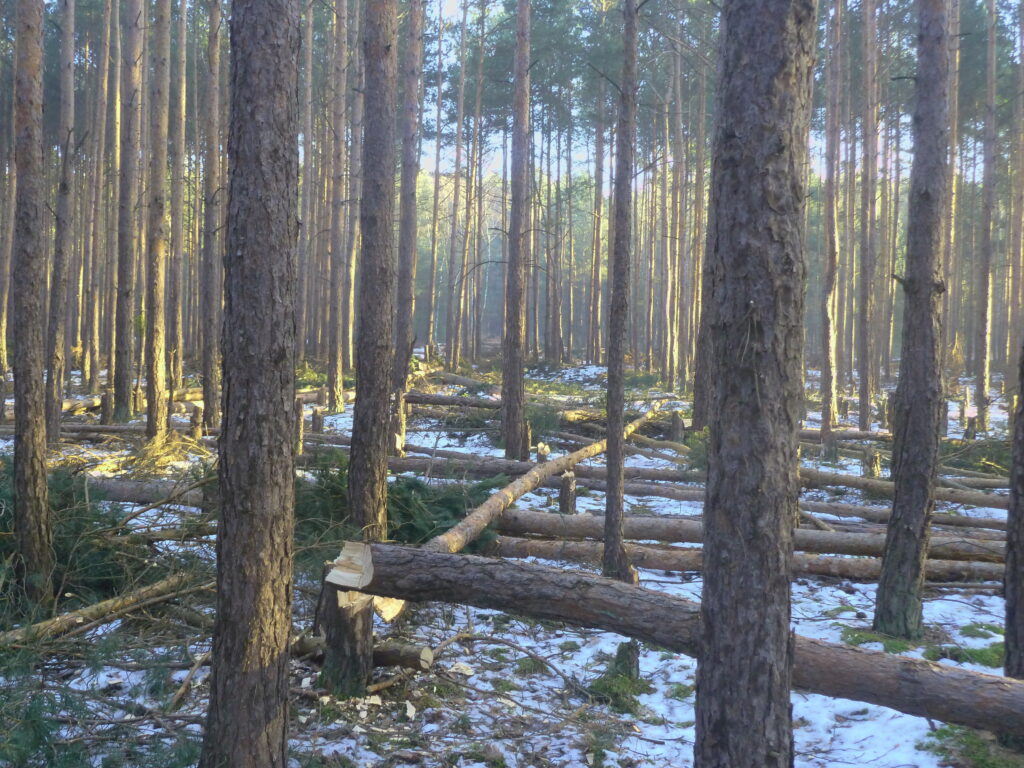 Area composting
Thinning of the pine stands
Planting native wood, from the edge to the middle of the forest:
Raspberry, blackberry, sloe, sea buckthorn, cornel cherry, gorse, gagelstrauch, daphne species, dog rose, hawthorn, hawthorn, juniper, whitebeam, elderberry, rowanberry, early flowering bird cherry, dwarf birch, boxwood, service tree, service tree, plum, field maple, Cherry, pear, apple, birch, maple, sweet chestnut, horse chestnut, winter linden, pine, black poplar, downy oak, elm, spruce, walnuts, Douglas fir, oak, beech and yew
Construction and installation of nesting facilities for different bird species
Construction of a plant-based sewage treatment plant with subsequent fining pond and rainwater retention basin, among other things to increase the humidity and as a water source for fauna, to increase the biodiversity with swamp and aquatic plants.
Installation and maintenance of bee colonies
Construction of dry stone walls for Insects
Protection of larger dead trees as nesting opportunities for birds and bats as well as "insect hotels"
The retention of at least 10 percent dead wood after felling
The laying out is intensive used forest edges and clearings for self-sufficiency
Production of Terra Preta
Here, too, we look forward to support, professionally, energetically and financially.
Since the Kesselberg is located on a 40 meter high sand mountain, the forest is subject to extreme conditions such as high evaporation due to stronger winds, high water permeability of the soil with a kf value of 4 * 10-4m / s, a very thin humus layer and a fine fraction in the soil of 1.09% (grain size <0.6mm).
The location exposed to the wind and the nature of the soil cannot be changed, so measures were necessary to curb the wind (planting hedges, planting a natural height layer at the edge of the forest), to improve the soil by strengthening the humus layer (nitrogen enrichers such as robinia and others Legumes as well as more input of biomass than discharge) and measures to take water retention (pond).